As a fledgling cook, it can be very easy to get caught up in using very similar ingredients all the time. Lord knows there's a lot of versatility in a pound of shrimp, some onions, garlic, tomato and limes. As previous entries will attest to!
But, that being said, I think it's important to get out there and try more unusual foods. Either local delicacies or items that aren't on the normal 'map'. Here are some that I've enjoyed over the years...
1) Wild garlic
Wild garlic, or ramps, is a member of the leek family with a similar flavour, but a little more onion-y. Local farmers in Ottawa sell them at markets with instructions on pickling them. The pickled garlic is delicious when thrown in a veggie stir-fry, salad, etc...
Pickling is dead easy: trim the stalks if this hasn't done yet to keep only the white bulb (ignore the red bits in the pic above), mix equal parts vinegar and water, throw the garlic in the solution. Keeps for about a month.
Peak Season: late April-May (Ottawa area)
2) Fiddleheads
Fiddleheads are a Central-Eastern Canadian/Northeastern U.S. delicacy. They're a kind of fern (ostrich fern) that grows in the early Spring. Other varieties can be found throughout the world, but I've never heard of them used outside the northeastern N. American seaboard.
Pan-fried in butter as a side for a nice piece of fish? Welcome to Heaven! The flavour is quite unique, and you need to wash them thoroughly before cooking in order to remove the brown leaves as they are/might be toxic. Cooked fiddleheads are still pretty crunchy. The flavour is reminiscent of broccoli, but milder.
Peak Season: late-April, May (Ottawa area - this year the availability started and ended weeks earlier due to a mild winter).
3) Chinese Sausage
OK, I'll be the first to admit that stir-fry, while being the easy choice for quick meals, can get pretty effing boring after the umpteenth shrimp or chicken dish. So, when I was in Chinatown (which in Ottawa is more like Chinastreet) recently, I came across this interesting looking package labelled 'Chinese sausage'. Now sausage is one of the best foods in the world no matter where it comes from, but Chinese sausage (aka "Lap Cheong") is something totally different than what we're used to. Honestly, they kind of look like pepperettes.
But the flavour is this interesting mix of sweetness, smoke, licorice and salt. And the texture is much harder and chewier than normal sausage, but it is dried and keeps much longer than regular sausages.
I tried a pretty tasty stir-fry using this stuff and Bok choy:
Chinese Sausage Stir-fry
Sauce
2 inch piece ginger, minced
4 cloves garlic, minced
2 tbsp sesame oil
1 tsp soy sauce
1 tsp oyster sauce
1 tsp Chinese 5-spice powder
3 tbsp dry sherry
Stir fry
4 Chinese sausage, sliced
1 red pepper, julienne
1-2 sweet onion, julienne
2 heads baby bok choy (or other Chinese green), chopped
3 stalks celery, sliced thin
½ head broccoli, cut into small florets
- Begin sauce boiling
- Add sausage and sauté until fat begins to be rendered into sauce (7 mins. or so)
- Blend sausage fat into sauce well (whisk if nec.)
- Add veggies and sauté until tender
Serve over hot rice or noodles with Sriracha hot sauce, if desired.
Chinese sausages and Sriracha are available at most Oriental grocers and supermarkets.
4) Pickled Herring
Alright, maybe it's not super-exotic, but I LOVE pickled herring. Try it some day with some really nice toasted bread.
You can find jars of pickled herring at any supermarket in the seafood section.
5) Berbere spice mix
This is my secret weapon for cooking spicy food. I use it in dry rubs, I use it in BBQ sauce, I put it on my toast, I use it in chili instead of chili powder. I'm like the old lady in those Frank's Red Hot ads.
Berbere spice is a staple in Ethiopian cooking. It's used in stews like Doro Watt and most other common dishes.
The version I use was taken and slightly adapted from Chef Marcus Samuelsson's
The Soul of a New Cuisine: A Discovery of the Foods and Flavors of Africa
. This is a GORGEOUS cookbook with lots of shots of the locals in various African countries doing their thing with food. And it has some neat-o recipes. I adapted his BBQ sauce recipe for ribs the other week and, yeah, wow. But it's Samuelsson's simplified Berbere recipe that has made buying this book totally worth it.
Here is the recipe, not sure what the copyright law is, but I'll repeat: this is Chef Marcus Samuelsson's recipe, from Soul of a New Cuisine. Please don't sue me.
Berbere spice
1 teaspoon fenugreek seeds
1/2 cup ground dried serrano chili peppers or other ground dried chili peppers
1/2 cup sweet paprika
2 tablespoons salt
2 teaspoons ground ginger
2 teaspoons onion powder
1 teaspoon ground cardamom (preferably freshly ground)
1 teaspoon freshly grated nutmeg
1/2 teaspoon garlic powder
1/4 teaspoon ground cloves
1/4 teaspoon ground cinnamon
1/4 teaspoon ground allspice
Finely grind the fenugreek seeds with a mortar and pestle or in an electric spice or coffee grinder. Combine the remaining ingredients and add the ground fenugreek seeds, mixing well. Refrigerate in an airtight container for up to 3 months (although I've had batches last 6 to 9 months in the fridge and be fine).
If you have trouble finding the ingredients, check out an Indian grocery and a Chinese grocery. Between the two, you should find what you need.
Use it liberally the way you would chili or curry powder. Mix about 2 parts brown sugar with 1 part Berbere spice for a delicious rub for meat.
6) Zataar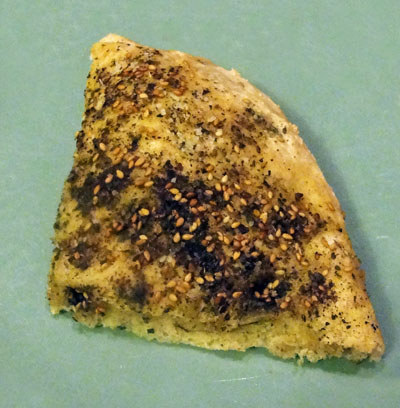 One of the great things about living in Ottawa is the very large Lebanese population, which led me to be exposed to Middle Eastern food long before shawarma became ubiquitous. Now, I didn't try zataar until later on in life, but man did I eat a lot of baklawa as a kid...
So, zataar, what is it? Well zataar itself is an herb blend. Often the herbs are mixed with oil to create a spread. I've only ever had it prefabricated from Boushey's Grocery - essentially what they make is a pita bread with this spread over it. They sell it for about 1.50$. It's a tasty, tasty snack!
Here is a recipe for the zataar spice blend from
about.com
. I have no idea about the authenticity, but I bet you it's tasty!
Ingredients:
1/4 cup sumac (check at Middle Eastern grocers or upscale food shops)
2 tablespoons thyme
1 tablespoon roasted sesame seeds
2 tablespoons marjoram
2 tablespoons oregano
1 teaspoon coarse salt
Preparation:
Grind the sesame seeds in food processor or with mortar and pestle. Add remaining ingredients and mix well. Store za'atar in a cool, dark place in a plastic zip bag or in an airtight container. When stored properly, za'atar can be used from 3-6 months.
To make into a spread, add olive oil a bit at a time, stirring constantly, until desired consistency is reached. Spread it on pita bread and enjoy the bitter deliciousness!
7) Fatayer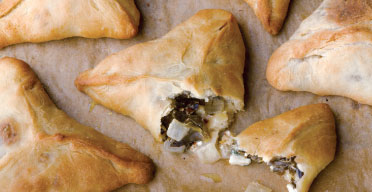 Fatayer is a kind of savoury pie/turnover dealie, usually stuffed with spinach, onion and any number of spices/herbs. It's commonly sold in Middle Eastern groceries. Makes great picnic/hiking fare!
I've never tried making it myself (mostly because baking frightens me), but here's a recipe anyway (
from about.com
):
Prep Time: 15 minutes
Cook Time: 15 minutes
Total Time: 30 minutes
Ingredients:
For the Dough:
1 cup all purpose flour
1/2 teaspoon salt
3 tablespoons vegetable oil
1/4 cup water
For the Spinach Filling:
1/2 pound fresh spinach, finely chopped
1 small onion, chopped
3 tablespoons lemon juice
2 teaspoons vegetable oil
1/2 teaspoon salt
1/4 teaspoon pepper
1/4 cup walnuts, chopped
1/8 teaspoon ground sumac
Preparation:
In a medium bowl, combine flour and salt. Add oil and begin to knead dough. Once oil is absorbed, add warm water. Knead into an elastic dough.
Shape dough into 2 inch diameter balls. Cover and set aside.
Preheat over to 425 degrees.
Wash spinach and soak in salted water while you chop vegetables. Rinse spinach and dry thoroughly with paper towel.
Combine and toss filling ingredients.
Place 2 teaspoons of filling in the center of each ball of dough. Cover filling with dough and form into triangular shape.
Bake for 10-15 minutes on greased baking sheet, until golden brown. Allow to cool 5 minutes and serve immediately.
That's it for this edition of 'off-the-beaten path' foodstuffs. I'll get back to this topic when I've gathered enough to make it worthwhile. As always, your comments are welcome too!